Seed is setting a new standard in probiotics with its first product for humans in the DS-01™ Daily Synbiotic.
The science, development, testing and research that has been put into this revolutionary prebiotic + probiotic capsule is nothing short of mindblowing.
On paper, Seed's DS-01™ Daily Synbiotic (the combination of prebiotics & probiotics) is one the most extensively researched and developed dietary supplements ever - but how exactly does it work? And what does it do for you on a daily basis?
Well, after diving into 3 whole jars of their DS-01™ Daily Synbiotic capsule via their monthly subscription and combing through all of the science and research, I have as good a grasp as anyone on its health benefits, finer details and daily use.
I have tried to be as thorough as possible in the review below so you can find out everything you need to know about Seed's  DS-01™ Daily Synbiotic, however, don't hesitate to shoot us an email if you think something has been missed.
The SEED
DS-01™ Daily Synbiotic (Prebiotic + Probiotic Blend) - A Comprehensive Review:
Before we get into all of the studies, features, benefits and specifications, I want to present a first-hand review and direct experience from taking Seed's DS-01™ Synbiotic for over 90 days straight.
What I Like:
The Evidence
As mentioned - I feel that the science, research and studies supporting the strain-specific benefits of the DS-01™ Daily Synbioticis are completely unmatched by any other prebiotic or probiotic supplements on the market (and most other supplements of any other type to be honest). Their first consumer innovation has utilised the skills and knowledge of over 22 world-renowned doctors, researchers, academics and scientists in the fields of microbiology, immunology, genetics, metabolomics, gastroenterology, pediatrics, molecular biology, and transcriptomics.
A Focus On Sustainability 
Everything about Seed (as both a product and organisation) has been designed with sustainability in mind. The Seed DS-01 Daily Synbiotic is sent in completely biodegradable algae foam and cardboard, with the capsules themselves contained in reusable and a refillable glass jar or travel vial. Seed's sustainability practices also extend far beyond probiotics for humans as Seed Labs is pioneering applications to support some of our planet's most pervasive needs for honey bees, coral, agriculture and new biomaterials.
Simple & Easy To Take
Reviewing health supplements often means stirring a lot of terrible-tasting powders and tinctures into juices and smoothies to try and make them slightly more palatable - so the ease of taking the DS-01™ Daily Synbiotic capsule is very much appreciated.
A Happy Digestive System
Seed's  DS-01™ Daily Synbiotic is associated with a whole range of different scientifically-supported health benefits, including supporting gut barrier integrity and immune function, but the major change I can personally attest to is its support for digestive health. Again, I'm lucky enough to be someone who doesn't suffer from major digestive issues but even so, I've experienced an ease of bloating after heavy meals as well as generally feeling like my stomach is more content.
What I Think You Need To Consider:
As far as high-quality supplements go, the Seed  DS-01™ Daily Synbiotic is excellent value in my opinion - coming in at just over $1.60 per day including free international shipping. That being said, it's not an inconsequential cost so it is something you'll need to consider and budget for your own circumstances.
You can click here to check the price out but before you do, you'll be happy to know that we have a unique and market-leading discount code for our email list subscribers.
It's also worth noting that it is a subscription service that supplies you with 30-day monthly refills- you can cancel at any time though.

About SEED Health & Their Consumer Products:
Launched in 2018 by co-founders Ara Katz and Raja Dhir, Seed set out to redefine, reshape and reimagine the probiotic supplement market - and on many measures, they've already done just that.
Realising that the offering of probiotics at the time was lacking, they assembled a team of over 20 scientists, researchers, academics, advisors, engineers and designers to create a single product that would do everything you could ask of a prebiotic and probiotic supplement for adults - the DS-01™ Daily Synbiotic.
So, what actually is the DS-01™ Daily Synbiotic? Well, from the Seed team themselves - it "comprises 24 scientifically and clinically studied probiotic strains with a patented, non-fermenting prebiotic. This breakthrough formulation is paired with innovations in probiotic stabilization and a precision-release system to deliver strains to the lower small intestine to support systemic benefits, including digestive, heart, skin, and gut health."

One of the most unique and innovative aspects of the DS-01™ Daily Synbiotic Seed capsule is its 2-in-1 capsule technology. With countless studies showing that stomach acid and digestive enzymes often decimate beneficial probiotics, Seed has implemented a prebiotic outer capsule that dissolves first, protecting the probiotic inner capsule and ensuring that the right amount of microorganisms make it to where they need to go: your colon.
This is but one example of the seriously impressive and intensively researched aspects of this supplement, showcasing the depth of the science behind Seed. With strain-specific research, validation through clinical trials, testing and refinement put into its design and development, the DS-01™ Daily Synbiotic now stands as one of the best-developed dietary scientific supplements on the market.

NOTE: The Seed supplements range now also includes the 'PDS-08' - a pediatric daily synbiotic formulated specifically for kids. Keep an eye out for our upcoming review on this.
Seed's DS-01® Daily Synbiotic Information:
Here's a quick breakdown of all of the key facts and figures you need to know as well as a complete list of allergens advice:
24 naturally occurring probiotic strains

53.6 Billion AFU

No refrigeration required

Vegan

Gluten-Free

Dairy-Free

Soy-Free

Nut-Free

Shellfish-Free

Sesame-Free

Glyphosate/AMPA-Free

Corn-Free

No Binders

No Preservatives

Prop. 65 Compliant
As you can see - just about anyone can take it!

Seed DS-01™ Daily 

Synbiotic Health Benefits:

Many brands are quite happy to throw out health claims and proposed benefits without much at all to back it up, but Seed stands out by ensuring their DS-01™ Daily Synbiotic supports healthy gut flora and overall wellness, with benefits supported by thoroughly reviewed clinical research and hands-on testing (as we may have mentioned a few times now!).


The strains of probiotics included in the Seed DS-01™ support multiple markers of digestive health including bowel movement regularity, stool consistency, ease of expulsion, transit time, occasional bloating, and constipation.

While digestive health was certainly top of mind in formulating the DS-01™—our product takes a systemic approach with clinically and scientifically studied strain-specific benefits beyond the gastrointestinal system—including cardiovascular health, micronutrient synthesis, and dermatological health.

Feel free to explore more of the science behind the DS-01™ here.

Where To Buy Seed Daily Synbiotics?
You can buy the DS-01™Daily Synbiotic directly from their website.
You can get straight to their site using any of the links and banners in this Seed probiotic review, but before you do, you can also sign up to our email list for one of the best discounts you'll find on it.
How To Take Seed Synbiotics?
Being in capsule form makes it very easy to take on a daily basis - just leave it somewhere where you'll remember to take it first thing in the morning (on an empty stomach) for best results.
Seed suggests taking one capsule daily for the first 3 days to give your body a chance to adjust and adapt and then taking 2 capsules daily from day 4 onwards.
It's not uncommon to experience some gastrointestinal discomfort in the first few days of taking Seed Synbiotics - this occurs to many people when first taking probiotics. While it is best to take it on an empty stomach, taking it with food may reduce any discomfort and is perfectly fine to do.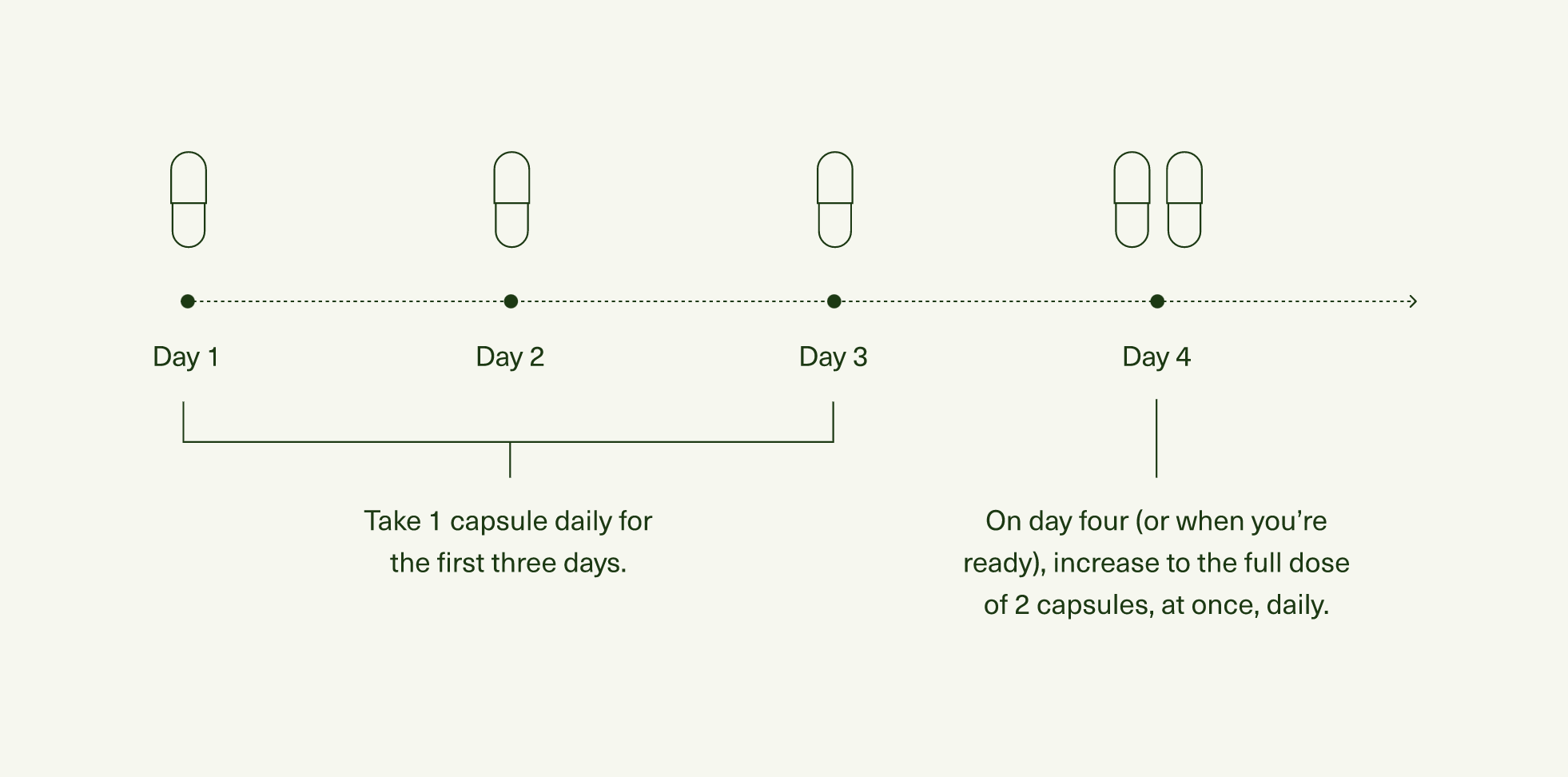 Are There Any Side Effects?
In the first few days of taking DS-01™, some people experience some gastrointestinal discomfort, abdominal tightness, mild nausea, or changes in their stool.
This is very normal as the body adjusts and can be a sign that the probiotics are viable and attuning to each individual's unique ecosystem. This is common with most probiotics, however, and not so specific to Seed.
The DS-01™ is also generally safe to take for most people with pre-existing digestive concerns, like IBS, or other health conditions.
However, with all of that being said, we always recommend that you consult your doctor or physician before taking any new supplements of any kind. The individual human body can react differently to any new dietary additions with many factors playing a part from person to person - so it's always safest to check with a medical professional first.
Great! I Want To Try It - Do You Have A Discount Code?
We absolutely do! As a Bircher Bar reader - you can enter the promo code THEBIRCHERBAR with Seed at checkout for 15% off your first order.
Seed ships worldwide (see country list here) and the best part is, they offer a 30-day risk-free 'no questions asked' guarantee if you decide that the DS-01™ Daily Synbiotic is not for you!
Basically - you can try it for yourself for an entire month and if you don't like it - it won't cost you a cent!
FAQs About the DS-01 Synbiotics

Is Seed Better Than Other Probiotics?
I'm personally yet to find another prebiotic - probiotic supplements that even comes close to matching the science, research, evaluation and general standard of the DS-01™.
Is Seed 
DS-01™ 

Worth The Money?

In my opinion, yes, it is worth the money. I believe it's the best probiotic + prebiotic (synbiotic) available backed by some of the best trials and research ever completed in the probiotic space.

Being 'worth it' to you is completely dependent on your unique health goals and financial circumstances though - so you will have to make the final decision on this!
Are Seed Probiotics FDA Approved?
Dietary Supplements are not reviewed or approved by FDA for safety/efficacy.
However, the FDA does regulate and enforce both dietary supplements (the finished products) and dietary ingredients. Our DS-01™ adheres to all FDA-established protocols for dietary supplements (current Good Manufacturing Practices, or "cGMP") and also exceeds US regulations for ingredient and product testing and meets the highest global regulatory standards in Europe (EFSA) and Japan (FOSHU).
When Should I Take
DS-01™ 

Probiotics?

It's best to take the DS-01 capsules first thing in the morning on an empty stomach to limit the capsule's exposure to digestive enzymes that can break it down, but again, if you find it's causing some discomfort, you can take it with food as well if needed.
When Will I Feel Something?
You may not actually 'feel' any changes, but that doesn't mean it isn't working. Depending on your unique constitution and overall health you can range from experiencing no noticeable physical effects to experiencing less bloating, better digestion and easier bowel movements within 24 - 48 hours.
Either way, you can rest easy knowing the microbes are getting to work!
What If I Don't Like It?
Seed offers a 30-day risk-free 'no questions asked' guarantee!
Get in touch with them within your first month to get a full refund, minus shipping costs.
Is Seed All I Need?
The DS-01™ is undoubtedly a brilliant synbiotic, but it isn't a 'fix-all' and is not a replacement for a poor diet!
I personally eat a wide range of whole foods and incorporate it with other 'gut friendly' add-ons such as greens powders, mushrooms and ACV!
Where Are Seed Probiotics Made?
Seed is an American company headquartered in Los Angeles, however, the Seed DS-01 Synbiotic is bio-fermented in Europe. There is no Seed probiotics Australia retailer, however, it's incredibly quick and easy to order them direct from the Seed website.

That's It!
There you have it, the most comprehensive Seed probiotic review on the internet (in our humble opinion!)! And as you've just read - it's a glowing review from us for Seed's Daily DS-01 Synbiotic.
High-quality prebiotics and probiotics are crucial for maintaining not only great gut health, but also systemic health. More and more studies are discovering the links between maintaining a good gut microbiome by nurturing good bacteria and countless other areas of health within the human body.
With more research, testing and refinements than any other supplements I've ever reviewed (not just probiotics), the Seed Synbiotic will likely have a place in my daily routine for a long time to come.